How we're helping the UN achieve this goal
(Doing business with us helps activate change in the world. Thank you!)
We give 48 orphans independent living skills training
Every month we give 48 orphaned children in Ukraine a day of training to teach them basic life skills including cooking, growing vegetables, personal hygiene and money matters. We're helping them prepare for living outside the constraints of institutional care.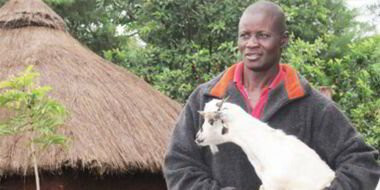 We give a Kenyan family a goat and more
Every month we give 1 goat to a rural family to have sustainable income for a year in Kenya. Yep, a goat. It makes a huge difference to an entire Kenyan family when we sponsor a goat and providing the breeding infrastructure. While the breeding program is underway, a small amount of income can be generated through the sale of anti-HIV goats milk and eventually goat meat. In the longer term, the production of other products such as soap, cheese, and yoghurt for sale at local markets creates additional income as well. And it starts with a goat.
We give pump access to water that supplements income
Once a villager has access to a convenient and an ample water source, they can begin to think beyond basic life-sustaining capacities. We're giving access to clean water that also supplements income by building a Pull Pump Well that can last for at least 10 years. This well provides villagers the ability to irrigate gardens or create fish ponds, improving their food supply and ultimately their health, and creates the opportunity for income from the sale of excess provisions. So every month we give 4 villagers in Cambodia access to clean water for the whole month, helping supplement income too. Well, done.